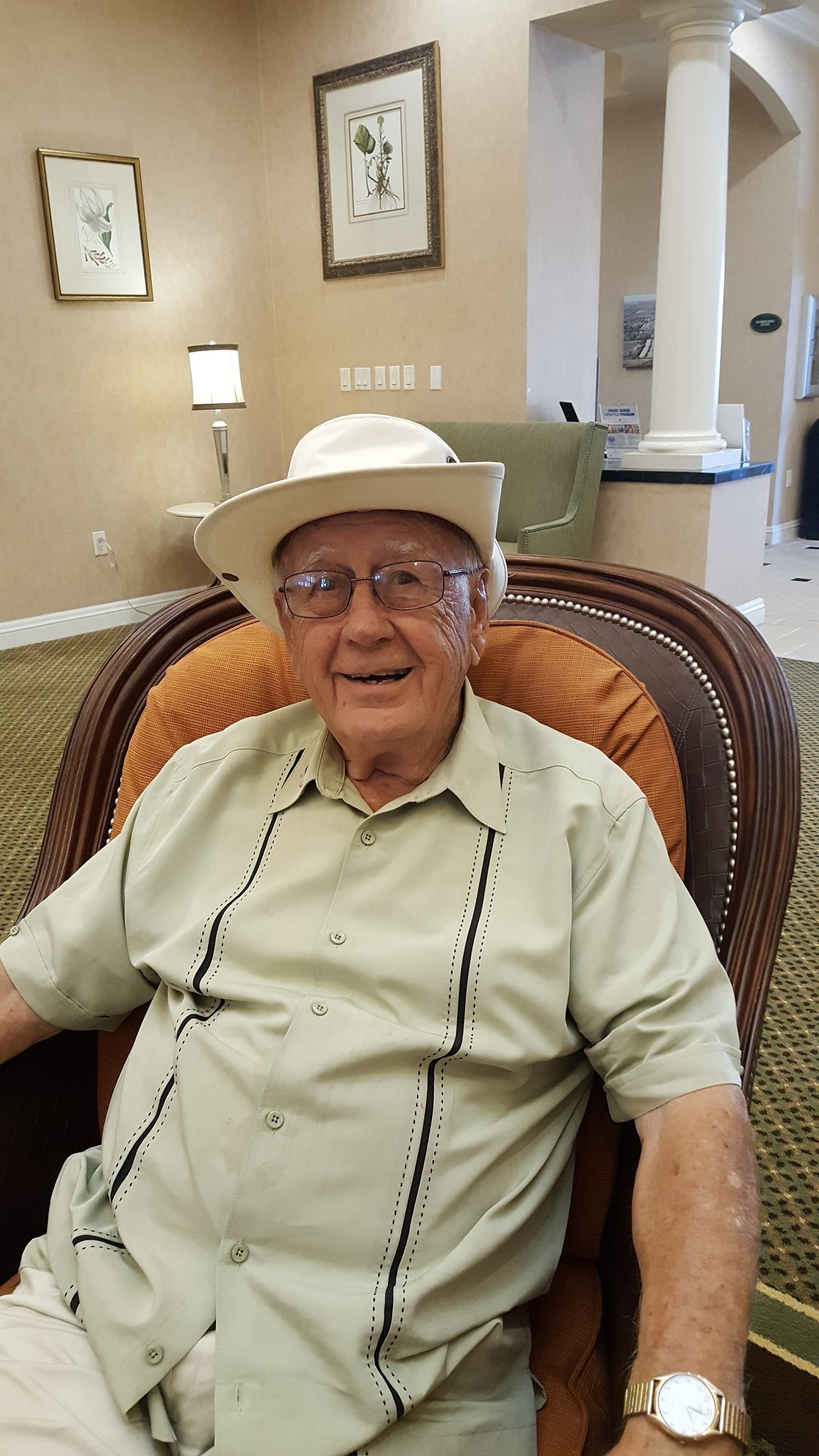 It's dang near impossible to believe Martin Monahan's age when you meet him. Quick with a joke, or to laugh at one of yours, he's intelligent, well-spoken, knowledgeable, and interested in what you have to say.
He also has a comeback when people remark about how vital he is.
"I tell them, I'm only 93, I'm looking forward to getting old," the resident of Naples' Aston Gardens at Pelican Marsh says.
He chalks up his vitality to a lot of little things.
"I've been very, very lucky with my health. I have a few problems but nothing too serious," he says. "I was always athletic and concerned about my health. My wife was a very smart woman, and we became vegetarians early in our lives. I think that has helped a lot with me being able to age well."
A native of Boston, Massachusetts, Monahan attended Latin High School, the oldest public high school in the country, with roots dating back to 1635.
But without any funds to go forward to college, he instead took a series of odd jobs until a chance meeting in the 1940s.
"One of my neighbors came home from the Navy in this bright blue uniform and told everyone he was flying airplanes," he recalls. "I really liked that, especially the part about flying airplanes, so I went out that day and signed up for the Navy and became a pilot during World War II. I was qualified as a carrier pilot, which meant I released dive bombers, but not actual bombs, which was good because I didn't like that idea."
After 2-½ years in the service, he and his wife entered the workforce - him with the phone company, her teaching a marriage cass.
After two years of teaching it, his wife was laid off because she was married and the school feared she'd have children and not want to continue.
"We got laid off the same day," he recalls. "She asked me if I wanted to go back to college and I said if I did we'd be very, very poor. Her response was 'Go for it!'"
His wife's advice turned out to be the smartest thing for the couple. Monahan went through a program to become a mathematician and statistician for GE.
"I enjoyed it very much," he says. "I liked the work and loved the people I worked with."
Monahan's wife passed away 11 years ago, but he was in good health and lived another nine years at the couple's retirement condo. He began to notice he wasn't doing much outside the home when he began looking for a new place to call home.
"It took a long time to make up my mind, but I realized I had no social life," Monahan said. "Married people tend to do things in groups, while single people have difficulty with social activities. This turned out to be a good choice as there are lots of coordinated social activities where I can do a lot of things and meet a lot of people from all over."
One of Monahan's favorite activities comes from one of the world's oldest sports.
"We have a putting green that uses about 25 x 25 feet of area, and we have competitions between the men and the women," Monahan says with a smile. "There is a lot of discussion between holes and it's very enjoyable. It's a difficult course with lots of mounds and holes, but it's a challenge that is a great deal of fun and a great social activity."