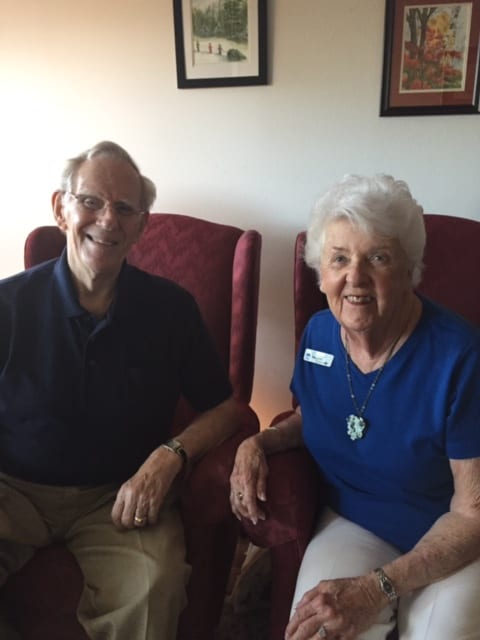 For California native Jack Watkins, the idea of winding up in a retirement community in Florida in his golden years seemed about as likely as buying oceanfront property in Arizona.
But that train of thought was before he met Margaret Eckenrode.
Well into his 80s, Watkins was working as a caretaker while living in a retirement community in Ventura, California, his hometown.
"Margaret had called me on the phone because she was going to be in the hospital and needed someone to take care of her dog," Watkins recalls. "I found out she really needed a lot of help once she got out. She needed her pills put out, needed to be reminded to take her pills, needed help getting to doctor appointments, just a whole lot of different things and places to go."
The pair spent time together and in that time they found a connection that superseded that of a caregiver and his charge.
"It was the most joyful time of my life," he said. "We found that we really enjoyed each other and being with each other."
Then came a wrinkle in the plan. Margaret had been living in California on a temporary basis waiting for a place to open up at Aston Gardens in Florida. And that spot had finally come open at Aston Gardens at the Courtyards.
"When she decided to move back to Florida where her family was, I packed her up and she drove back with her daughter." Her move left Watkins with a heavy heart, so he went to visit his brother in Arizona.
"I remember him saying, 'All you talk about is Margaret, Margaret, Margaret,'" Watkins recalls. "He said, 'I think you feel an attachment there, what are you going to do about it?'"
Watkins followed his heart and called Margaret and asked if she would be OK with him not only moving to Florida, but into the same facility.
Spoiler alert: She said yes.
Meeting Margaret turned out to be the late-game victory Watkins had been craving without realizing it.  This Stanford-educated man had worked for years in the purchasing industry, but when his son contracted AIDS he started devoting more and more time to family. WIth fear-mongering around each corner in the disease's early timeline, Watkins' dedication to his son was viewed as a burden, not a blessing. Acting out of what could most accurately be called a combination of corporate fear and pure cowardice, Watkins' bosses asked him to leave the company to care for his son, and never come back.
It was close to a year later when his son finally passed on in hospice, and Watkins found the doors back into his industry had been closed off to him.
So he went back to get more education and changed industries to lead security teams at hospitals. That worked out well until an ankle injury slowed him up and he decided it was time to retire.
That led to Ventura, Margaret, Aston Gardens, and a whole new start.
"I love everyone here," Watkins says. "There's an openness and a kindness with every person you meet. There are smiles and a really pleasant environment.
From taking trips to Raymond James Stadium, home of the NFL's Tampa Bay Buccaneers, to busying himself with the property's robust social schedule, there's hardly a dull moment for Watkins.
But the ravest review of his new digs came from someone whose opinion Watkins values quite high.
"My grandson came for his birthday and had dinner with us, and as he was leaving, he said, 'Grandpa! You've moved into a 5-star hotel!' I told that that yeah, it was pretty nice. That was a pretty good description."