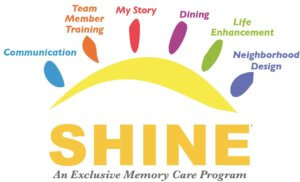 Here at Aston Gardens At Pelican Pointe, we fully understand the many challenges and obstacles that people with dementia face. As such, when your loved one steps into our Memory Care community, we will do our utmost to support and guide them with a person-centered approach that's been rated amongst the nation's best.
Our SHINE® Memory Care program has been awarded a Certificate of Recognition by the Alzheimer's Association®, the United State's leading voluntary organization that is dedicated to Alzheimer's research and care. It's an honor shared only by eight other memory care providers around the nation, and that truly shows the quality of the SHINE® program.
SHINE® makes use of a unique individualized approach to memory care that makes use of scientific principles in order to boost comprehension and engagement to ensure the best lifestyle quality for seniors with dementia and other similar memory-related conditions.
All of our professional staff undergo rigorous and specialized training to take care of patients with memory-related problems and will help chart a course of exploration for every resident that touches various important aspects of life. The SHINE® Memory Care program was designed to preserve and build on the affliction that has been taken away from them. From personalized care to quality meals, you can have peace of mind knowing that your loved ones are in safe hands here at Aston Gardens At Pelican Pointe.