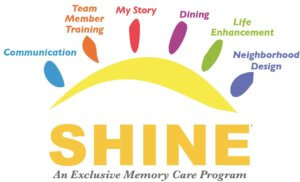 At Aston Gardens, we understand the challenges people with dementia face. We pride ourselves as a community that prioritizes using a person-centered approach that is well-known among the nation.
Among the top Alzheimer's voluntary health organizations in the country, ourSHINE®Memory Care curriculum has obtained a national Certificate of Recognition from the Alzheimer's Association. We are thankful to be one of the eight memory care providers nationwide to receive this certification.
With an approach tailored specially for each individual, our program is centered around scientific principles. This includes encouraging quality-of-life, participation, and engagement for individuals suffering from dementia, Alzheimer's disease and other conditions affecting memory.
Here at Aston Gardens, we have formed a team of highly skilled professionals to aid our residents to focus on various aspects of life. Our nurses are specially trained in memory care diseases and are equipped with the knowledge on how to serve our residents better. As part of our SHINE® Memory Care program, our mission is to help patients recondition what their illness has taken away from them.
We provide a range of services and there is nothing that you cannot find at Aston Gardens. We ensure that our residents are well-taken care of receiving high-quality medical care.